The Residents: Bad Day on the Midway - Infosite
Hello and welcome to this infosite about iNSCAPE's 1995 game "Bad Day on the Midway", which was designed and scored by The Residents and other artists such as Jim Ludtke (director and animations).
On this website, I try to collect as much information as possible. And with an unusual game like "Bad Day on the Midway", why wouldn't I?
Check out the different subpages: I collected much information on the characters and their stories that can be discovered, as well as some technical information on how to run this game on modern computers. My goal is to preserve as much information as possible for a long time, so this microsite may not be updated for a long time.
*** NEW AND FREE ***
Run the game with just a few clicks, no need to install anything
-
click here for more info
-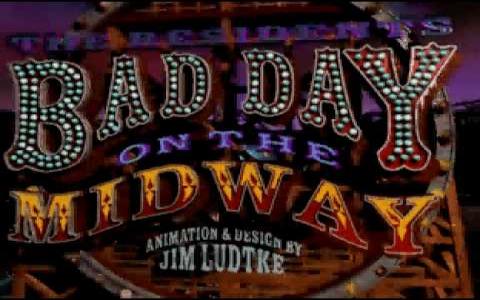 You can get in touch with me at Twitter or badday@forspamonly.com - and yes, this address does exist ;-)
If you have any questions, feel free to ask!
Yours,
Max
---
Acknowledgements:
- All screenshots, artworks and visuals of the game © 1995 Cryptic Corporation, iNSCAPE and The Residents
- "Bad Day on the Midway" and the iNSCAPE logo © 1995 iNSCAPE
- "Macromedia Director" and "Macromedia" are trademarks of Adobe Systems
- "Apple QuickTime" and "QuickTime" are trademarks of Apple Inc.
- Some information was taken from the Wikipedia article on the game, some other information from the HardcoreGaming101.net review of the game.